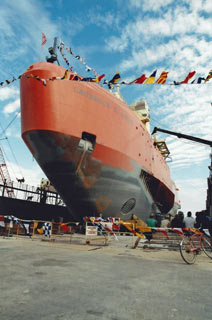 I haven't seen any photos of Ruth (or anyone else) smashing a champagne bottle against the bow as the ship slides down the ways...but that's because that is not how vessels of this type get launched these days...instead, you will notice that the vessel is inside of a floating drydock. So what is happening here? What is obvious from these photos is that construction is still underway, as structures are being added to the sides of the hull. Prior to moving the vessel from the construction shed (my April 1997 photos of the hull in the construction shed), the ship stability calculations were reviewed...and there had been an error in determining the center of buoyancy. That basically means that it would list to one side...not something considered desirable in a research (or any other) vessel. So, in these photos they're starting to add sponsons (Wikipedia reference) to the sides of the hull to correct the imbalance.
This archived report of the 8-10 October ARVOC meeting addresses the construction, outfitting status, and action items, as well as the dedication ceremony and other aspects of the polar icebreaker program--namely the Nathaniel B. Palmer and the US Coast Guard's Healy (which at the time was scheduled for launch in November 1997). These paragraphs of the report address the stability issues and the addition of the sponsons. These were needed to increase buoyancy and compensate for the lead weights (added to adjust balance) so that the vessel draft would not prevent docking at Palmer Station.
For illustration, below is that classic 8 July 2000 photo of the Laurence M. Gould docked at Palmer Station inboard of the larger Nathaniel B. Palmer (Zee Evans, Antarctic Photo Library). The starboard sponson on the LMG is clearly visible.
Okay, a few statistics for the LMG:
Overall length: 230 ft/70.2 m
Breadth (with ice reamers/sponsons): 56 ft/17.1 m
Draft: 18 ft/5.49 m
Loadline displacement: 3780 long tons/3841 t
Propulsion: two Caterpillar 3606 engines/two shafts, 5575 bhp/4157 kW
(all of the statistics and drawings are available in the Laurence M. Gould guidebook from this usap.gov page)
Below, two more photos, with links to more information: