Palmer Station Timeline
1995-2005
Manager: Janet Phillips, population 21 (+) (photos and names).
Dump cleanup activity takes place in late fall.
Internet access achieved for 6 hours/day via LES-9 at 38 kb/s (5/6), a significant improvement from 1.2 kb/s over ATS-3, but no web browsing yet.
CAF roof replaced.
Science library moved from GWR to grantee office next to Lab 9 to make room for women's bathroom in GWR.
Keeling air sampling project arrives (September) and sets up equipment in T-5.
A quick medevac--Alison Parker, researcher aboard Polar Duke, is diagnosed at Palmer with appendicitis--picked up by a BAS Twin Otter on 12/11, flown to Rothera, then to PA, successful surgery the next day.
Automated weather data collection system established (not the present one).
"Live from Antarctica 2" film crew visits station (the website is still an excellent educational resource).
Manager: Ronnie Baltz; population 32 (list and photos).
New Beckman centrifuge gets sent back for repairs a second time.
USGS installs DGPS (differential GPS) base station in T-5, the first "real-time DGPS system" in Antarctica.
The GPS receiver antenna, near Hero Inlet about 300 feet from T-5, where the equipment and transmitter antenna were installed. This equipment has been used with roving GPS stations to accurately locate survey and sample collection points in the local area. Here's a
photo from another angle
(1998 USGS photos by Larry Hothem).
Polar Duke makes last USAP cruise (97-5) to Palmer; last departure from the station is 6 May...(tribute page with the final cruise log and other trivia).
...as the Laurence M. Gould is under construction.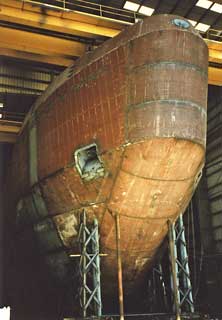 The
LMG
was being constructed at the North American Shipbuilding yard in La Rose, Louisiana, and in April when Palmer friend Al Oxton showed up to visit me in Kenner, we decided to drive down to the shipyard one Saturday to see what we could see. Amazingly, we were let in. The vessel was built in pieces...the hull was inside one of the sheds, and some of the completed sections of the superstructure were lying around outside nearby.
Here's the page
with more photos
.
Remote alarm sensing system installed to (hopefully) replace the night watch.
Power plant switchgear and distribution system upgraded to match generator capacity and station power demand. This required many full-station power outages and portable generator hookups to critical projects.
R/V Laurence M. Gould christened/dedicated in Louisiana.
The NSF-chartered research vessel
Laurence M. Gould
(LMG), named for the second-in-command to Admiral Richard E. Byrd on his first Antarctic expedition (1928-30), was dedicated/christened in a ceremony at La Rose, LA (near New Orleans) on 9 October 1997. The full story, with
more photos, is here
. The
LMG
was originally scheduled to open Palmer Station for this season, but various delays pushed the delivery date back, so science and logistics support to Palmer Station were provided by the
Nathaniel B. Palmer,
tourist cruise ships, and the R/V
Abel J.
The
LMG
finally headed south toward Punta Arenas and Palmer Station on Christmas Day, and reached Palmer Station for the first time on 26 January.
Seawater intake pumps rebuilt
Survey of Marr Glacier conducted--determining that it had retreated an average of 10 meters per year since a 1995 survey.
Manager: Ronnie Baltz; population 21 (list and photos).
Asbestos abatement team spends 12 days on station removing floor tiles from berthing, the pantry, ET room, medical and Labs 6-8--requiring extensive preparation to move equipment and supplies out of the way...and later put things back.
90+ knot winds blow down the VLF antenna (1 April).

Fortunately this occurred while the Stanford rep was on site. An all-hands effort was required to raise the replacement antenna (
Stanford VLF Group
photo by Mike Johnson from
his trip report
which includes more photos). Of course, maintenance of the antenna base, guy wires, and cables/supports, as the glacier moves and melts, is a continuing task.
Sprinkler system piping installed in upper floors of Biolab and in aquarium building.
Biostores moved downstairs to machine shop area in preparation for main floor remodel...
...which added offices, library and an exit door/stair at the end of the hall.
Pullman berths in Biolab replaced with standard bunk beds.
Seawater lines from pumphouse reworked with new heat trace.
Active cathodic protection system installed on pier sheet piling.
Fraser Island (2-1/2 miles northwest of Palmer in Wylie Bay) named for Bill who has been studying birds and other area wildlife since the early 1980s.
Manager: Chris Cunning; population 20 (list and photos).
Biolab main floor remodel continued with asbestos abatement and new partitions, shelves, racks, and carpet for the comms and weather station equipment.
Followed by the major rearrangement and renovation of the first floor of GWR.
Deck side of boat shop dive locker enclosed for gear storage and laundry area.
Diving/blasting project conducted to remove ship-endangering rocks next to the pier.
Composer/naturalist Doug Quin shows up for major media/multimedia event marking the new millennium... Antarctica 2000.
CTBT group makes initial site survey.
One of two main seawater intake lines repaired; 2 backup lines installed.
Field gear storage area added to the boathouse.
Manager: Bob Farrell; population 27 (list and photos).
This year's winter project--upgrading the second floor of GWR, moving gym, TV room and bar to the end of the building, adding soundproofing and completely reconstructing the berthing area.
Both NSF research vessels make a rare joint port call at Palmer Station (June).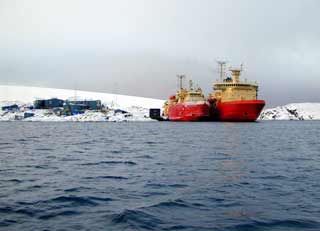 At left, the
Laurence M. Gould
, with the
Nathaniel B. Palmer,
seen here on 8 July 2000. The pier is, of course, the same
Hero-
sized one, built in 1966-67, and the NBP is too large to be able to tie up...
Photo by Zenobia Evans, from the USAP Photo Library
(link to original)
.
Medical relocated to new spaces in GWR (these had been built during the 1999 winter, but used as temporary lounge space during the upstairs remodel.
0600 UT (middle of the night) weather obs discontinued.
GWR "sun deck" completed.
Old X-ray room converted to equipment storage.
Manager: Pam Hill; population 20 (list and photos).
GSAR team called out to rescue folks from the LMG who ventured into a crevassed area; two people fell in, one requiring rescue (April). No serious injury.
Stanford VLF rep removes old Ampex mag tape drives; replaced with digital storage and CD burners along with the Betamax tapes.
Aquarium seawater supply piping/valving replaced; the new system has more accessible valves coupled with flowmeters.
Tom Leipart, RPSC painter, age 36, who had spent the first part of the winter on station, fell down a flight of stairs aboard the LMG in Punta Arenas (9/1) and suffered a fatal head injury
Winter projects--sandblasting and painting the foundation beams beneath Biolab, and sheetrocking of GWR garage and general supply.
Biolab sprinkler system put in service.
Power plant foam sound insulation removed/replaced with sheetrock.
Automated weather system "PALMOS" installed and functional (but manual 3x/daily synoptic observations continue).
Another rare joint ship call--both the Laurence M. Gould and Nathaniel B. Palmer (10 February)...featuring a barbecue dinner aboard the NBP and a crowded Palmer Station bar that evening.
Population in February: 22 women, 20 men...second time in station history for women to outnumber men (the first occasion was briefly in the 1994-95 summer season).
Manager: Joe Pettit; population 32 (list and photo).
Major reconstruction of Biolab lab space, including conversion of machine shop area into new science area.
Earth station building constructed, along with a 26.4-foot radome housing a 16' antenna.
Turned on in September and commissioned in October, the antenna, aimed 16° above the horizon, looks at the geosynchronous Intelsat 706 satellite, providing 24-hour internet access initially at 384 kilobits per second with upgrade capability. This was a tremendous improvement over the previous 6-12 hour window at 38k-56k which used the since-decommissioned LES-9 satellite. Videoconferencing and VOIP phone service is also available; the northern end of the satellite link is an antenna in Sedalia, CO, 20 miles south of Denver. Here's the rest of the story and photos .
New amateur radio antenna erected, and ham shack recommissioned.
The amateur radio equipment had been packed up during the extensive GWR renovation...putting it back together and installing this new antenna was another task that Skip Withrow accomplished during his late winter visit to the station.
Manager: Rocky Ness; population 16 (list and photos).
More winter lab HVAC work--duct sealing, more new ductwork, quieter fume hood fans, DDC controls and balancing.
A strange unique event at Rothera...researcher Kirsty Margot Brown was attacked by a leopard seal while snorkeling adjacent to the station...and was killed (23 July) (BAS press release).
Automated PALMOS data collection system used for synoptic weather observations of record
Third and final phase of old dump cleanup completed.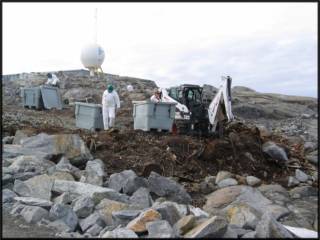 The 3-man team sorted and removed about 154 tons of trash from two different dump sites, leaving only rock and a hole in the ground (
more photos
and the rest of the stories).
Last vestige of glacier between Arthur Harbor and Loudwater Cove collapses, creating (perhaps) Norsel Island. Glenn Grant has an excellent collection of pictures on his site (archive)
Manager: Rocky Ness, population 19 (list and photos).
Heating glycol loop expanded to aquarium, trades shop and boathouse, with new ductwork
New flooring/shelving installed in dry goods storage area
Biolab bathrooms remodeled.
New aluminum landing craft makes its first appearance (October).
The vessel, affectionately dubbed the "tin can," is a 25-foot Almar landing craft. Unlike a Zodiac, it can easily maneuver through several inches of new ice. At left is the first good photo I'd seen of it--here it is in use in June 2015 when ice conditions prevented the
Laurence M. Gould
from reaching the station. In this photo by Cynthia Spence (from the
USAP photo library
) it is being driven by David Moore, who also provided the technical details. The craft is normally stored in Punta Arenas except when needed for use. Here's a November 2004
Antarctic Sun
"around the continent" excerpt
which includes a small 2004 photo of the vessel in use.
Aquarium environmental room refrigeration compressors replaced.
VHF antenna building replaced.
Manager: Jim Slaughter, population 38/20 (list and photos).
Woods Hole (WHOI) establishes a webcam in preparation for the planned Polar Remote Interactive Marine Observatory (PRIMO) project.
This is instrumentation for a thermosalinograph (TSG) to monitor and transmit temperature, salinity, conductivity and fluorescence, hooked up to the seawater system in the aquarium. The camera itself (and other instrumentation) was located in T5; the camera showed views of Hero Inlet and nearby antennas/cables. The camera was watching for icebergs near potential sites for a remote underwater observatory
(PRIMO project website)
planned for May 2006 about 2 nautical miles south of Palmer, at a depth of 425 feet. The TSG was installed by a survey team that visited Palmer Station in April and May and looked for potential survey sites and cable routes
(press release)
. The PRIMO project never happened, although the TSG operated until July 2012.
The webcam archive site is here
; here is an
archived webcam image
.
New International Monitoring Station (IMS) building erected.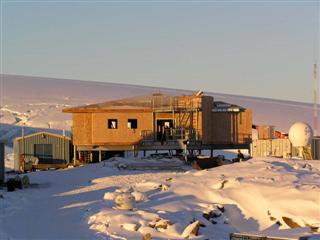 The new triangular 1440-square foot building replaced CAF and T5 and provide expanded equipment space for the
DOE/DHS
CTBT air sampling project. This view from mid-May was taken from GWR
(more information and photos)
.
Medevac from the glacier (21 October)...
This BAS Twin Otter showed up from Rothera and landed on the glacier (in rather poor visibility, as you will note). The mission involved satcom engineer Pete Allen, who was suffering from appendicitis. Pete, accompanied by the w/o physician, were flown to PA via KGI. Pete recovered quickly and successfully from surgery, and since returned to the ice to winter at Pole in 2008. More
info and photos
.
Continue to 2005-2015 timeline
---