Creating the
RHIB's
The first RHIB being fitted to its trailer during the final building phase (photo by Ethan Norris)


So, what's a rigid hull inflatable boat? Obviously if the hull is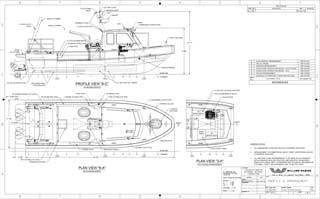 The vessel plan and profile (865 kb PDF)


"rigid" (aluminum) it is not "inflatable"...actually the only inflatable portion is the pontoon around the side. The 2012 Blue Ribbon Panel report recommended that this sort of craft be obtained to meet the future needs of the station. Among its key features particularly as compared to the fleet of Zodiacs now in use--a greatly increased range, improved safety features, better support for research equipment, and...an enclosed, heated (!) pilothouse.

A few of the basic specs: Length: 33.5 ft; Breadth: 10 ft; Draft: 2 ft 4 in; Displacement: 14,500 lbs; Weight on trailer: 16,000 lbs; Engines: 2 Volvo diesel Penta D4, crank horsepower 450 hp; Crew: 1; Passengers: 7 (4 inside wheelhouse, more if they are friendly). The complete spec book is here.

Construction of the first of the two vessels began in early 2016, by Willard Marine, based in Anaheim, CA (although the early hull construction was in Alabama). These vessels were custom designed for the Antarctic program, although Willard has constructed similar vessels for the military, NOAA, and law enforcement agencies.
Above, a couple of sample photos of the hull and superstructure construction. These and other photos, as well as several weekly construction reports, are from this Future USAP page. The hulls of both vessels were then shipped to California for the final phases of construction, followed by sea trials of the first hull in waters off of Long Beach.