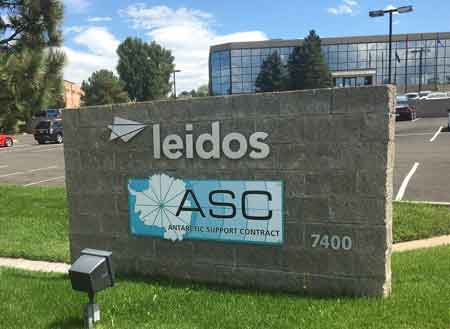 My August 2017 photo of the sign in front of the project headquarters
in Centennial, Colorado, a Denver suburb
On 16 August 2016, Leidos officially assumed the NSF Antarctic Support Contract (ASC) from Lockheed-Martin. So what's the deal? When Lockheed-Martin was awarded the contract, after a 2-year delay, in December 2011 (they officially took over on 1 April 2012), expectations were that they would run things up through 2025 (4-1/2 year initial award period plus an 8-1/2 year maximum extension period.
So...what happened? Who is Leidos? And what does this mean to the program? For those who might consider this page to be TL;DR, I could just say that Lockheed-Martin sold their IS&GS division (where the USAP contract was being managed) to Leidos, but that would be an inaccurate oversimplification. If they'd just done that, there would have been major tax implications. So what really happened...??
This all started with Lockheed-Martin in July of 2015 after they announced they were purchasing Sikorsky Helicopter for $9 billion. They then decided to divest the bulk of their IT business--basically the IS&GS division--either through a spinoff or an outright sale (20 July 2015 Washington Technology blog post). Another later factor may have been the loss by the Boeing/Lockheed-Martin team of the Long Range Strike Bomber program to Grumman in October 2015.
Six months later, they'd found a buyer as it were. On 26 January 2016 it was announced (Lockheed-Martin press release and Leidos (Leidos Holdings, Inc.) Leidos press release) that a deal had been struck to transfer the IS&GS division from L-M to Leidos in a tax-efficient Reverse Morris Trust transaction.
So what's that? Many details are obscured or private, but Wikipedia describes a Reverse Morris Trust as "...when a parent company has a subsidiary (sub-company) that it wants to sell in a tax-efficient manner. The parent company completes a spin-off of a subsidiary to the parent company's shareholders. Under Internal Revenue Code section 355, this could be tax-free if certain criteria are met. The former subsidiary (now owned by the parent company's shareholders, but separate from the parent company) then merges with a target company to create a merged company."
The transactions were completed on 16 August 2016 (Leidos press release and L-M press release). The deal as cussed and discussed in January had been valued at US$5 billion, including a $1.2 billion cash payment from Leidos to L-M and $3.8 billion for the transfer of tendered L-M shares to L-M shareholders based on January stock prices. Due to stock price fluctuations as well as a Leidos special dividend, the actual value was adjusted to $4.6 billion.
So...it needn't be said that the NSF USAP contract was a significant factor in the transaction. If you really want to make sure of that, first note that in preparation for the transaction, L-M had to redefine IS&GS into the temporary subsidiary known as Abacus Innovations Corporation. And also that the prospectus uses the apparently common term "Splitco" for this temporary subsidiary. That said...these pages from the prospectus describe the IS&GS business...note that the USAP contract is only referred to obliquely in the final paragraph which mentions "some of the harshest environments in the world" as well as NSF. If you're having trouble sleeping, the full prospectus PDF is here. The prospectus info was downloaded from links from the Lockheed-Martin investor relations page, which led to this page which in turn links to the full page-by-page view of the prospectus.
So about Leidos...interestingly the company history page nowhere mentions the original company Scientific Applications International Corporation (SAIC) which was created in 1969 by Dr. J. Robert Breyster (Wikipedia page). Despite that name, from my research SAIC was never involved with any Antarctic research or projects. In September 2013 SAIC split into two businesses, SAIC (which seems from this website to be an IT/government/defense contractor not unlike Leidos) and Leidos.
So what does this mean to the program? Not that much other than new logos in office lobbies and new websites, as most of the management folks remained in place, and the ASC designation and logo (below) remained the same. And NSF did review things, per this (22 August NSF press release). It was issued AFTER the financial swap was finalized, and I understand from previous similar situations that the review probably took awhile. I can say that Leidos almost immediately created this user-friendly website which describes their role in the program and links to the various prime and subcontractor job pages. Before you peruse the job links I very highly recommend you check out this page which among other things describes how to navigate them.
The Leidos logo on this page is presented as informational and historical documentation only.