$1.1 million had been allocated for the repair; however, the damage was not as extensive has first believed, and repairs were accomplished under the original estimate. In addition to the scheduled repairs, the mast, top and side spars, and boom were replaced, and a 1-ton articulated crane was installed to improve loading and unloading from the ship's well deck.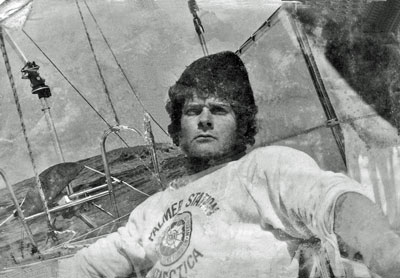 At left, Christopher Murdock, who served on the Hero in 1980 until the drydocking. He is the photographer for the two photos just above. The photos were shared with me by Jonathan Short, the son of Christopher's partner. The photo was of very poor quality and I've attempted to make it less ugly. If you are curious, here is the original. And I would like to contact him about some of his other photos.
Next...the Hero brochure ("your stay...NOT!") published by ITT/ANS.